Recent West Valley High School graduate Samantha Garcia-Martinez isn't afraid of trying new things, whether that might be a school club, a science class or even a new musical instrument.
This fall, she will add something else to the list: Garcia-Martinez will be a first-generation college student at Central Washington University, where she plans to major in biology and take pre-med courses.
"My parents (Gustavo Garcia and Marisela Martinez) are from Mexico, so I'm a first-generation Mexican-American," said the 2022 WVHS graduate as she discussed her academic future on Wednesday in the school cafeteria.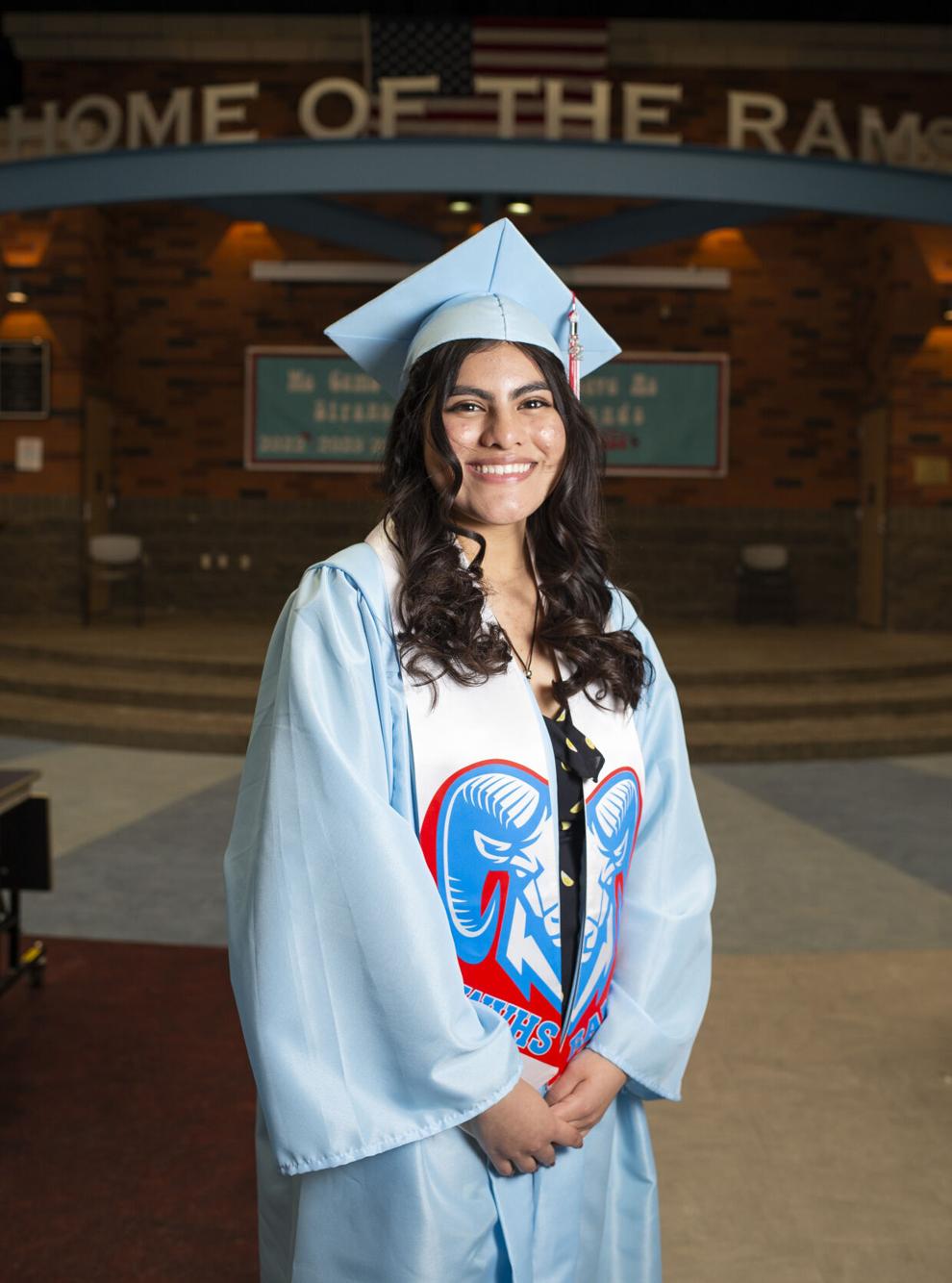 "West Valley has a good community of minorities. Being able to share your culture is very encouraged here … you can see the different flags (in the cafeteria)," Garcia-Martinez added. "Diversity is very encouraged here; you're encouraged to be proud of your culture."
Her friend Gillian Wang, after jokingly calling herself Garcia-Martinez's "stylist" during a portrait photo, agreed about the welcoming atmosphere at West Valley High School.
"There's definitely good clusters of minorities that you can hang out with. We have good teachers who are really welcoming," said Wang, also a first-generation college student who will attend the University of Washington.
Garcia-Martinez, Wang and their classmates had an unusual high school experience due to the COVID-19, with nearly half of their time at West Valley spent in a remote or hybrid learning schedule.
"It was definitely exciting to be back (in school) for my senior year," Garcia-Martinez said. "It was hard getting used to the whole academic side of it — studying, being able to keep track with all the homework. It was a little more slower and easier online. But I think it really helped me get back into my work ethic, so I can be better prepared for college.
"I also think it really helped my social skills, because I really made a lot of connections and relationships this year," she added.
The middle child of five siblings also was happy that the easing of COVID restrictions allowed the return of the West Valley High School marching band, and a switch to a completely different instrument.
"I did bass drum — I was on the drum line. It was really fun," Garcia-Martinez said. "I had done clarinet since fifth grade, and I had always had an interest in percussion, especially in seventh grade, but I was too afraid that I wasn't good at it.
"Sophomore year, that was my first year of marching band, and I paid attention to the drum line," she said. "I realized that I really did want to do that, because that's what I would pay attention to, out of everything.
"So I decided to take it upon myself and ask my teacher about percussion lessons, and other drum line members, too, to see what their experience with it was like. They were all really excited about it," she added. "It's a little heavier than carrying a clarinet, but you get used to it … I really enjoyed playing the bass drum with my drum line members, so I think it was worth it."
Besides band and marching band, Garcia-Martinez participated in two clubs: the Synergy club, which formed during the pandemic and finally could meet in person this past year, and SADD — Students Against Destructive Decisions.
She encouraged incoming West Valley High School students, which this fall will include her younger sister, Melissa, to try a club or sport that interests them.
"Just putting yourself out there is the best thing — in activities, in clubs and sports. Be social," she said. "Show confidence and try building as many relationships as possible. Because you want to have a lot of fun, of course, but also have the support to push through.
"Although high school may not seem as hard, you will have your ups and downs. And having people by your side will always be the best way."
Regarding her college plans and beyond, Garcia-Martinez hopes for a medical career, perhaps as an obstetrician-gynecologist (OBGYN).
"I want to go the medical route," she said. "And I really like science, so I really think that I could do well with biology. It's an interest of mine. I thought about chemistry, too."
She credits West Valley teachers Michael Cabbage and Jamie Raphoon with inspiring and developing her love of science.
"Mr. Cabbage taught chemistry and environmental science, so I've had him for two years," Garcia-Martinez said. "He does a great job having us involved in stuff. He's just a fun teacher in general. He just really keeps your interest in the class.
"And I first had biology with my teacher down on freshman campus, Mrs. Raphoon. She really impacted me," she added. "I absolutely loved biology freshman year. It was such a fun class, and I loved learning everything about it."
.